Gallery
"Every picture tells a story," as the old idiom says, so here's a page of stories about folk duo Chris McIntosh & Alvin McGovern and some of their friends.
And for the time being, here's where we put some of our pictures and experiences of Maine.
McIntosh & McGovern
A few photos taken at venues and performances.
---
Chris & Alvin at the Hinsdale, Illinois, Christmas Walk in November 2003. This picture appeared in The Doings newspaper. Photo by Scott Hardesty.
…in the Woodstock Independent when we played at the Woodstock Folk Festival open stage in July of 2000!
…at the the Hansen Center in Burr Ridge, Illinois in October 2000. This picture appeared on the front page of the Suburban Life! Thanks to Sally for inviting us to play.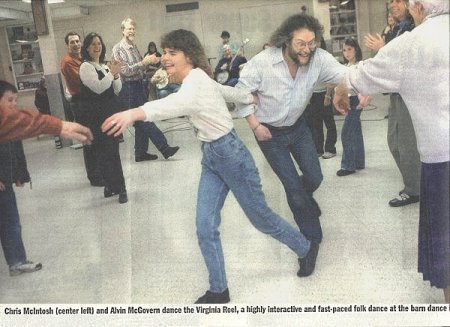 A photographer from the Wheaton Sun caught us at a Plank Road Folk Music Society barn dance in Downer's Grove, Illinois, in January, 2000. We were just enjoying the tunes and dancing.
…at the Masthouse in Woodstock, Illinois
…at the Little Red Schoolhouse Nature Center in Willow Springs, Illinois. Every fall for more than ten years or so, we enjoyed entertaining for their annual Arts and Crafts Fair on the first Sunday in October, and ocassionally for other events.
This is Alvin being the quintessential folk audience member at the Woodstock Folk Festival in Woodstock, Illinois. We were surprised to find it in the Daily Herald!
…howling at the moon at the Danada Festival in Wheaon, Illinois. Thanks to the Jones Family for inviting us to play!
…at the Masthouse 20th Anniversary Celebration, October 2000, in Woodstock, Illinois.
…howling again at the Two Way Street Coffee House, September 2001, in Downers Grove, Illinois. Thanks to Dave for inviting us back!
…performing a brief set in the window of Val's halla, May 2011, in Oak Park, Illinois, in conjunction with What's Blooming on Harrison Street. Photo by Jeff Elbel.
…on stage with the Harrison Street Ukulele Players performing in the Battle of the Beatles Bands at the 2011 Fest for Beatles Fans. To see the performance, watch the video.
…performing at Eastgate Cafe in Oak Park, Illinois. Do we need to say it was for St. Patrick's&nbspDay? Photo by Joseph Orzechowski, Alvin's brother.
Friends Photos
Pictures of some of the friends of Chris and Alvin, made mostly through music.
---
This is Tom, one of Alvin's private students—actually his first private student. He came from the Adult Education classes that Chris and Alvin teach. When this picture was taken, he was one of the busiest people we knew; it's a wonder he had time to take guitar lessons. He devotes himself to everything he does, and we saw that in the progress he made with his instrument.
This is Ray, a student of Alvin's and Chris', and ocassionally one of Alvin's privte students. Ray came to us "fully formed," so to speak; he'd already been playing guitar for years—in fact, longer than Alvin. But his life didn't offer enough opportunities to play with others. So he started taking classes and private lessons, and in the process of satisifying his appetite for music, he's become a good friend.

That's Tom behind him.
This is Tom, another student of Alvin's and Chris'. He took his first guitar lesson with Chris at the Adult Education classes Chris and Alvin teach, and he's continued on with Alvin for many, many years as both a class and an occasional private student. He's also become a good friend.
This is Ted and Mary with Chris and Alvin after a performance we all did in Douseman, Wisconsin, not far from where they live. Besides being former students from the days when they lived in LaGrange, Illinois, and really good friends, Ted and Mary are, in a sense, our offspring; they've been teaching guitar too. So now we have grandstudents through them!
"This is a song for all of the travelers
Who passed through my life as they moved along."
– All the Good People, by Ken Hicks
Chris and Alvin have been teaching the Adult Education classes at Lyons Township High School for a long time, and we have a number of students who've been with us for many years. Inevitably friendships develop and it begins to feel like family. And like all families there are losses.
We lost our friend Steve in August, 2009. He was with us for about five years, give or take. Being a teacher himself, he was a great student, and he was all about volunteering to help and share, both in and out of class; he created lyric sheets for the songs he liked, he made copies of his own notes for other students who found them useful, and he often sent us links to music and non-music websites. He was also a very good cook and always came to music events with new gourmet experiments that never failed to please. We found out he even shared his music with his family; they told us that he and his son came to their 2008 Christmas party with guitars and lyric sheets, and everybody sang—they couldn't remember having a better Christmas. It was so obvious that he loved the music from our classes that his family asked the teachers and students to sing and play for his funeral service, which we did.
May his memory be for a blessing.
"But I'm sad to say I'm on my way;
Won't be back for many a day."
– Jamaica Farewell, by Lord Burgess (Irving Burgie)
We lost our friend Mark in September, 2010. Chris and Alvin can't remember when he started taking lessons at the Adult Education classes at Lyons Township High School, but it might have been for about ten years. He was in and out of classes ever since the beginning because of his job as a Hinsdale fireman. When he told us he became Deputy Chief, we hoped that meant we'd see him more often, but unfortunately that didn't happen. When he wasn't taking classes, he often came to the extra class activities that we conduct. Fellow students remarked to us about how well he sang. Mark was a very nice guy, and we were always happy to see him. He'll surely be missed.
May his memory be for a blessing.
This is Bill, one of Alvin's private students. Bill and Alvin met in July, 2000, at the Illinois Storytelling Festival in Spring Grove, Illinois, when they were both taking the Master Class conducted by Jay O'Callahan. Alvin opened the workshop with a song and then sat down—next to Bill. When the workshop was over Bill asked if Alvin gave guitar lessons and where did he live. Alvin replied yes and that he lived in Hinsdale, Illinois. Bill was happy to hear that because he lived in Downers Grove, Illinois, just a few miles away, and he was thinking he'd like to take lessons. Bill said he would call, and he did less than a week later. He's been taking lessons ever since. He's an excellent singer and a persevering guitar player; a fine musician. He has also become a friend.

In November 2011 Bill and his wife Cathy moved to Florida to retire and be closer to their new grandchild. He and Alvin had their last lesson about three weeks before Bill left, and now they ocassionally talk on the phone. The last we heard he was still playing.
"This is a song for all the good singers"
– All the Good People, by Ken Hicks
We are sorry to have to say that we lost our friend Anne Jones on October 11, 2011. We are fans of the Jones Family String Band, and they have been very supportive of us. We will miss having Anne's beautiful voice joining us in song.
May her memory be for a blessing.
Chris and Alvin with Alvin's siblings, John, Caren, and Joe, the evening they came out to see our performance at the Eastgate Cafe in Oak Park, Illinois.
These are our friends, Diane, Ed, and Ellen.
Maine
Chris and Alvin have be vacationing on the coast of Maine for many years, and here's some of our pictures and experiences.
---
…playing for "Solar Sun Day," an alternative energy fair, held on August 24, 2002, on Isle au Haut, Maine. McIntosh & McGovern were staying at the Robinson Point Light Keeper's House Inn which was off camera to the right. The lighthouse was off camera to the left. The fair exhibits and displays were primarily on the other side of the inn. The then owners of the inn, Judi and Jeff Burke, had invited Chris and Alvin to play here because of an informal concert McIntosh & McGovern gave at the inn the year before. This was one of the very rare gigs McIntosh & McGovern have accepted when they are on vacation.
No, this isn't an advertisement. On May 20th, 2005, Moxie was designated the official soft drink of Maine. Its unique taste is not to everyone's liking, but Alvin drinks his fill of it on their annual trip. Find out more on WikipediA.
On September 4th, 2009, Chris and Alvin, along with their fellow Angelique passengers, sang at the Camden, Maine, Windjammer Festival Talent Show, sometimes called the Schooner Bums Talent Show because performer participation is limited to the schooner "bums;" the crews and passengers of the "Camden Fleet."

Chris and Alvin have been attending the Festival and enjoying this event for years, and took passage on a sailing that would allow them to join in the fun. They explained what was involved in being in the talent show to the other passangers, and almost 100% of them wanted to take part as well. In addition to getting on stage and singing and playing, everyone had a good time beforehand writing lyrics, creating the arrangement, and rehearshing.

In other words, this video is the result of a Performance workshop Chris and Alvin facilitated. Find out more about what workshops they can offer your organization or event on the Teaching page.
On April 19th, 2011, the whoopie pie was designated the official state treat of Maine. When we first started going to Maine, making whoopie pies was primarily a cottage industry. You'd find them in gas stations and small grocery stores on the counter by the cash register, and they were always made by someone nearby. The one's being made commercially in the last few years are of a more erratic quality, and sometimes way over-priced. And here's something to remember; when you're on vacation, whoopie pies do not have any calories.

Here's a picture of Chris and a giant whoopie pie sold at S. Fernald's Country Store in Damariscotta, Maine. Ordinarilly they are about half this size, and we've had bigger ones.